Pretzels from Hell, and other artifacts
Like many other relics of the traditional amusement park, the old dark rides are disappearing, swallowed by advances in special effects and the ever-increasing expectations of consumers. But before their plywood and fiberglass facades are razed, and their paper maché innards gutted and replaced with pseudo-holograms, fiber optics, and other technological wizardry, I want to showcase a few of these older dark rides -- and encourage you to visit them when you get the chance.
Dark rides have been scaring and entertaining visitors since the heyday of American amusement parks in the 1920s, when scenic railways melded with the stuff of waxworks and fun houses to transport park-goers through a Grand Guignol theater of horrors. A good example of these early dark rides is the Haunted Pretzel in Bushkill Park. Constructed in 1927 and little-changed since then, the Pretzel is one of the oldest surviving dark rides in the country.
When I first rode the Pretzel, the diminutive size of its cars only reinforced my suspicion that I should have outgrown these dark rides years ago. Bruising my knees as I whirled through the tight turns was the psychological equivalent of trying on a Ben Cooper Halloween mask (the plastic kind with the rubber band): It's always a wonder to realize how large one has grown over the years. Well worth the bruised knees, though, to experience first-hand the origin of the term "pretzel ride" as I scoot along a track as convoluted as the ride's namesake.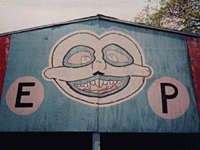 Purists will delight in the Haunted Pretzel's historical integrity. Due to the scant commercial development at the park, the ride looks very much as it did when it was built. The picket fence still bounds the quay; the painted plywood still mimics the stones and mortar of a castle wall; the gable still invites one and all to RIDE THE PRETZEL. Preserved as well is the stylized pretzel emblazoned across the gable, though more recent years have seen it turned into a parody of the traditional Hellmouth.
Dark rides combine visual motifs the way B-movies mass-produced for drive-ins mixed genres and plot devices: ridiculously. Gothic outlaw bikers on Planet Rock-n-Roll decorate Le Cachot at Kennywood, one of America's finest traditional parks, located in suburban Pittsburgh. With its cartoonish imagery, Le Cachot is a fiberglass signature of its ingenius creator, the late Bill Tracy. Before its incarnation as a haunted castle in 1967, Le Cachot was the Zoomerang, best described as a ride-thru Tarzan matinée stuffed with jungle beasts and fronted by a 16-foot tall African warrior.
A history lesson in the dark
Le Cachot's current interior scenes, reflecting a refurbishment and renovation project from 1976 by Henri Pohl, present the expected array of articulated ghouls, skeletons and torture scenes in vivid technicolors and psychedelic blacklighting effects. If given the opportunity (or better yet, if you make the opportunity), take a spin on Le Cachot -- it's like riding a time machine into America's kitschy heart of darkness, spilling sawdust from arthritic joints and glowing fluorescent purple. This is a dark ride the way I remember them. Appropriate, then, that Le Cachot is located in Kennywood, one of the country's best parks for evoking remembrances of things past. Designated a National Historic Landmark in 1987, Kennywood is cluttered with rides and structures of significance to please the historically inclined -- including the nearly 95-year-old Old Mill, a dark water ride popularly called the "Tunnel of Love."
Kennywood's second dark ride captures the spirit of older rides even though it's a mere 14 years old. Built in 1981, the Gold Rusher is an inconspicuous attraction attached to the rear of Le Cachot and located beside the wood and steel knot of two of the park's four roller coasters. The unobtrusive styling of the facade -- faux rock face, a water wheel for panning gold, and a "miner '49er" -- anticipates the dark rides currently produced for the major theme parks. "Ballyhoo" -- exaggerated showfront -- doesn't count for much in this burgeoning age of "themed experiences," striving to immerse riders in Hollywood blockbusters. In such a climate, the show inside better deliver on the hype of the exterior.
The Gold Rusher delivers the expected thrills and laughs to riders who travel along in black mining cars through Wild Western scenes. Designed by Maurice Ayers, who won an Academy Award for special effects for the Ten Commandments, the Gold Rusher's interior includes a dimly-lit bat cave, a ghostly locomotive mounted by a skeleton, and a malevolent pack of coyotes, encircling a kettle of boiling water. The Lone Ranger and Tonto emerge from under the lid as you pass.
Though its "American Gothic" exterior is not as grandiose or embellished as that of dark rides built during the '50s and '60s, the Haunted House at Knoebels Amusement Resort, in Elysburg, boasts a magnificent interior filled to capacity with scenes and effects. Voted Best Dark Ride in America in the most recent survey of National Amusement Park Historical Association members, the Haunted House is the dark rider's dark ride. While it's "easy" to make a spectacular dark ride with millions of corporate dollars and a crack team of designers and engineers, as Disney's Haunted Mansion vividly proves, it's more impressive to make something out of nothing. Knoebels' dark ride is just that: constructed by the park's maintenance crew out of lumber grown locally and gradually assembled out of bits of foam insulation and shreds of paper maché. Besides, flawed illusions are more unnerving than audio-animatronic perfection any day. Kitsch becomes horrific when steeped in shadow.
All homegrown sentimentality aside, the Haunted House succeeds, I think, because in turns and jerks, it drops you into claustrophobic nothingness, and disorients you with twists through a wizard's library, psychedelic room, and torture chamber. It startles you with more than a few heart-stopping shockers (including the ever-popular and always-effective on-coming truck gag) -- all for a mere 80 cents. Without this dark ride Knoebels, one of the last free-admission parks in America, would still be well worth a day trip, if only for a turn on its immaculate Carmel carousel (1913). But the Haunted House makes the park a must-see. Traditional dark rides do not get any better than this.
Pennsylvania, forming with Ohio the fertile crescent of traditional amusement parks, isn't the only home of older dark rides. However, the state does have a generous number that deserve appreciation. My interest in dark rides stems from my general interest in large American kitsch -- steel diners, neon-lit dairy bars, reptile farms and miniature golf courses. These cultural landmarks should be preserved as tangible links with our past. But I know that commercial structures are precisely that: money makers, pure and simple. In short, the only way to preserve traditional dark rides is to ensure their commercial viability. So do your part -- visit traditional amusement parks and take a ride through the dark. You and everyone else will profit from the experience.
This is the first in a three-part series on the history and cultural significance of the dark ride. Subsequent articles will examine the dark ride's past in terms of spooky iconography and the tradition of comic horror, and eye its future in the new-fangled "theme experiences," ride films, and virtual reality.
Brandon Kwiatek is a card-carrying member of the National Amusement Park Historical Association. He has a master of arts degree in folklore from Western Kentucky University, and his recently completed thesis The Dark Ride is the definitive study of the subject.