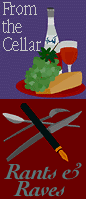 Dessert is not to be missed!
On the corner of Tilghman and Front streets is Elias Sweet Spoon. The restaurant has won an award from the city of Allentown for renovating an old Wawa convenience store. I'll agree, they did a great job.

The reasonably priced fare is all of Mediterranean origin. The dining area was a little bright for my tastes, but the service was great. Dinner consisted of Shish Kabob and Gyro platters, which included rice and a salad. The food was good, but nothing to rave about; the meat I found to be a little too dry. Our side order of hummus was quite good, however. It was fresh, tasty, and generously portioned. Elias Sweet Spoon has some great fresh squeezed juices. We had the Mango juice and Jellab, an interesting combination of rose water, grenadine, and pine nuts. Both drinks were very refreshing.

The real treat at Elias is the dessert selection. I asked for the server's suggestions and she came back with a plate of 5 different pastries that cost us only $3.00. All the pastries, which included baklawa, pistachio mamoul, walnut warbet, namura, and balawrii, were a heavenly collection of filo dough, nuts, baked farina, honey, and associated confections. The desserts there are not to be missed. The cappuccino was average, although their small, yet potent, cup of Turkish coffee was amazingly strong and lacked bitterness. I strongly recommend it.

If you're not a big fan of Mediterranean food, or even if you are, missing dinner here won't ruin your life. Missing the desserts and Turkish coffee, though, should be considered a crime.




Elias Sweet Spoon, 101 Tilghman Street, Allentown, PA. Phone (610) 820-5660. Dinners $5-8, Pastries and coffee $1-3. ****
---