Has It Been Ten Years Already?
by Anabella Wewer
---
Fields of Gold subtitled "The Best of Sting, 1984-1994" is a compilation album featuring two new releases, a previously unreleased version of "We'll Be Together", and a couple of remixes.
The first track is the new release "When We Dance", a ballad with the tone of The Soul Cages but less deep in content. Although it is a song about a love that's being lost to another, "When We Dance" has a positive tone in its lyrics, one that makes me almost think there is no way he's going to lose the girl. The music is very well composed, and the background vocals work very well. It is one of those songs that can be in the background and you'd never notice it, until you listened to the lyrics. Sting's vocal performance is impeccable, showing the maturity acquired in the ten years of his solo career and light years away from the vocals of The Police years.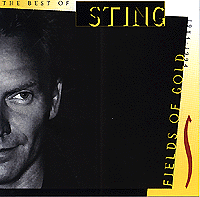 "Fortress Around Your Heart" was remixed from its original version in The Dream of the Blue Turtles, and now sports a somewhat brighter, happier sound that should have been there all along.
The new version of "We'll Be Together" is funkier, with stronger guitar lines and interesting percussion breaks. A good alternative, but not a replacement for the version in ...Nothing Like The Sun.
"Why Should I Cry for You" was also remixed for this album, but without going back and listening to the original, I couldn't tell if much had changed.
The last song on the album is the second new release, "This Cowboy Song", a very uplifting, jazzy tune with excellent percussion. The credits on the sleeve are scant, but I was dissapointed to find that some, if not all of the drums on this song were electronically programmed, though I guess that is more out of personal preference than actual results.
The rest of the tracks are the release versions of "If You Love Somebody Set Them Free", "Fields of Gold", "All This Time", "Be Still My Beating Heart", "They Dance Alone (Cueca Solo)", "If I Ever Lose My Faith In You", "Fragile", "Englishman In New York" and "Russians."
Although the album has a good selection, the omission of "Heavy Cloud No Rain" and "Love is Stronger Than Justice" was a little disappointing. A good album all around, Fields of Gold is a good addition to the collection of even those who own all of Sting's other albums. "When We Dance" is a beutiful quiet song to listen to or to dance to with a special someone, and having most of everyone's favorites in one album is a big plus.


---