This being the first issue of skew, we figured we'd put all this stuff on the top level. This is your only chance to read this and have it be only one link away; subsequent issues will have it hidden somewhere:

skew is best viewed by a graphics capable World Wide Web browser. For optimal enjoyment the staff recommends Netscape Communication's Netscape Navigator. We're not responsible for substandard browsers.

How we make skew happen:
Staff:

President and Publisher: Eric J Schmoyer (all around pain in the ass)
Editor & Creative Director: Anabella Wewer (she draws cute little pictures)
Production Manager: Craig Constantine (watch out for that fin near pool tables)
Copy Editor: John Hall (incapable of coherent thought before noon)
Staff Writers: Scott Snyder (remember when he had an Apple IIe?), Ted Vaida (I thought all snowboards were named Lance.)
Creative Support: Peter Johnstone (up there in that "Metro" area )



Hardware:

Designed with Apple Macintosh Quadra and Power Macintosh computers, with help from Microtek Scanmaker IIxe desktop scanner.



Server:

Digital Equipment Corporation's AXP 3000-300LX running NSCA's httpd. Alpha stations are cool.



Software:

Fractal Design Painter, Adobe Photoshop, Altsys FreeHand, BBedit Lite, GNU Emacs, Apple's PowerTalk, Qualcomm Eudora, Fetch- FTP for the Macintosh, and of course, Netscape Navigator.



Fuel:

Chocolate, Fasig's Irish Creme coffee, Domino's bacon and hot pepper pizza, chocolate, Coca-Cola, a few Whoppers, and some more chocolate.



Sound Effects:

Peter Gabriel, Counting Crows, Sting and John's own personal silence.



Distractions:

Andres, Asterax, X-Files, Nerf products in general, watching highway accidents and traffic jams outside our office windows, the WZZO sound booth upstairs, and of course our favorite UPS man.



Legal stuff:

All contents and the look and feel of skew are copyrighted by Oasis Telecommunications, Inc., 1994. skew is a registered trademark of Oasis Telecommunications Inc. All artwork is protected both by Oasis Telecommunications Inc. and the artists who created them (they hog RAM).



Contributions & Letters to the Editor:

Unsolicited contributions to skew are welcome, but the Editor doesn't guarantee they'll be published. All contributions should be mailed to skew@ot.com, and become property of skew. The Editor will determine in a case by case basis, whether the contribution is relevant to the purpose of skew (yes, there is one), and whether it fits its style. Letters to the editor are also welcome and subject to editing for brevity, content and clarity.



Advertising

All advertising inquiries should be mailed to skewads@ot.com, or call (610) 439-8560.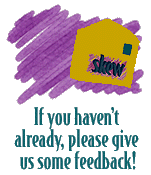 ---